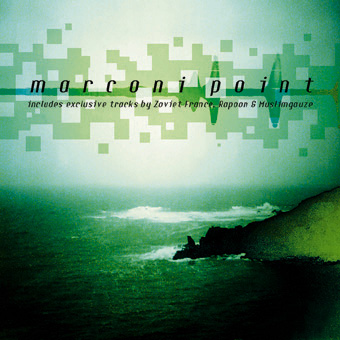 cat no.: i-LIGHT010CD
label: IRIS LIGHT RECORDS
barcode no.: 5038044101020
format: CD album
distributed by: shellshock (uk & export)
dutch east india (us)
artelier (Europe)
Tracklisting: 1: Penumbra "Duet For Horn & Theramin
2: :zoviet*france: "Temple Attic
3: Ashfelt "Mekanik
4: Rapoon "Lest We Forget
5: Zuvuya "The Hang Of This
6: Lucha "Ribnail
7: Muslimgauze "Trial Mix
8: Marineville "Modus Operandi
9: Filter Kweens "Ground Parrot
10: "A Dizzy Reasoning
Marconi Point is the first Iris Light Records compilation album and includes some of the most ingenious sonic manipulators recording today including tracks by artists in the Northumberland Triangle.
Marconi Point includes EXCLUSIVE tracks from such luminaries as Zoviet France, Rapoon, Muslimgauze, Marineville and Penumbra (Zoviet France side project). These artists release music on such labels as Soleilmoon, Staalplaat, Release/Relapse, Universal Egg (ZION TRAIN's own label) and Charrm.
With stunning artwork of Poldhu Point in Cornwall, the home of Iris Light Records and the place where Marconi transmitted the first long distance radio frequencies, this compilation will be an excellent introduction into some of the more esoteric music from Iris Light Records.
Penumbra and Ashfelt have both recorded full-length albums for Iris Light Records. Zoviet France will be releasing a collaboration album with AUBE on Iris Light Records sometime in the future.
Marconi Point is a benefit album for the Autonomous Centre of Edinburgh, and you can get a copy from ACE in person or by post.
This album is being dedicated to Bryn Jones - Muslimgauze - who died January 1999