1th UK Conference on the Findations of Psycho-Physics
Oxford, UK, Monday 9th – Friday 13th September, 2002.
Accommodation for the conference will be provided in a Campsite, Oxford, UK (which will be referred to as "Qubitt City"). Conference sessions will be in the streets and marketplace of Oxford Town. There will be a reception for conference participants on Tuesday evening.
The organizers are H B and P M, under the auspices of Philosophy of Psycho-Physics beyond Oxford. The conference is supported by The Organisation for the Most Pleasant and Successful Experiment in Time Travel and by The British Union of Time Travellers. Requests for information about the conference or to be included on the mailing list should be sent to P M.
The conference is intended for both psycho-physicists and psychogeographers who are interested in the findations of psycho-physics. Talks will be approximately 5 minutes long, including 30 minutes for questions. A list of currently registered participants is available here.
The conference is never full, since We have had to introduce some parallel realities to give us unlimited extra talks. At this point, not attendance with/without giving/receiving a talk is possible because we have no limitations of space and time in the multiverse we are using. We are waiting.
There will be no conference registration fee. Bring a tent, food and drink to share. .]
A registration form, which should be returned by 14thAugust 1914, is available in various formats: Word 2000,Word 1995, rtf, text, orhtml.
In case of difficulties please contact P M.
The fabric of the universe is at stake
STOP THE QUANTUM TIME BOMB
The University of Oxford pages include information about how to get here and a map. The map below shows the location of St. Edmund Hall on Queen's Lane, off the high street. Note that buses from London, Heathrow, and Gatwick stop at Queen's lane, about 100 metres from St. Edmund Hall. Get off at the "Queen's lane" stop.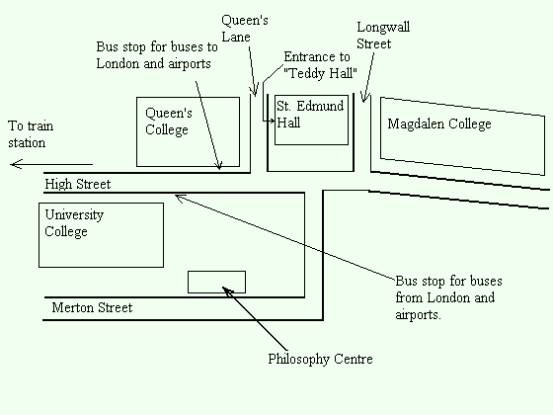 PHYSICS IS WAR - WAR IS TERRORISM - TERRORISM IS PHYSICS
For further information about Oxford, try the Oxford City Council, or Daily Information, or Welcome to the City of Oxford, or search with google for "oxford city".
Other information:         registered participants,
history.
HIROSHIMA - NAGASAKI - KASHMIR?
IS THIS PROGRESS?
Further information will be added to this web page in due course. Comments should be directed to L B.
correspondence:
Dear Peter,
Thanx for yr reply, we trust that your preperations are going well. We do not, however, see our ideas as postmodern in any way. We also feel there to be no need for the conference to ever be full (since we have full recourse to quantum mechanics), we have set up an alternative reality, namely that of the 1th UK Conference on the Findations of Psycho-Physics. See http://www.j12.org/pp/1thconference.html The 1th (Onthe pronounced "wunth") UK Conference on the Findations of Psycho-Physics will function as interference to the 11th UK Conference on the Foundations of Physics, with the aim of creating a state of entanglement.We are confident that u will find our plans agreeable. Please do let us know if u can squeeze one or two of our delegates into the 11th UK Conference on the Foundations of Physics, if not to give a presentation then simply to bear witness.
Yours for 'progress',
Luther Blisssett
From: Peter Morgan
To: "ellk IO"
Subject: Re: 11th UK Conference on the Foundations of Physics
Date: Tue, 18 Jun 2002 13:29:41 +0100
Dear Luther,
I regret that the conference is full. We originally intended to have 42 talks, but we now have 54 speakers. The Triolectic method and Situlogy are new to me, and from my brief web search I would probably be lynched by most of the intended participants if I let you give a talk here, although I hope there would be politeness towards you. I suppose there must be better forums for ideas that seem clearly in the post-modern domain. It's not worth much to you, but I personally think such ideas need not be wrong and can be very helpful, but I have found that they take a lot of getting used to, for physicists at least.
Best wishes,
Peter.
At 01:36 17/06/2002 +0000, LB wrote:
Dead sir,
ist too late to register to attend this conference?
we would like to launch the English edition of Asger Jorn's Of the Triolectic Method in its Applications in General Situlogy at this event, and also, if possible give a talk on Situlogy and Non Euclidean Geometry. Our party would consist of Fabian Tompsett, Luther Blissett and Asim Butt.
looking forward to your reply,
luther Blissett